It is doubtful that today's park service would approve the building of an expensive structure that is purely decorative in nature. But when the Roosevelt Arch was conceived, Gardiner was the most important gateway to Yellowstone—the first park and a jewel in the national park crown.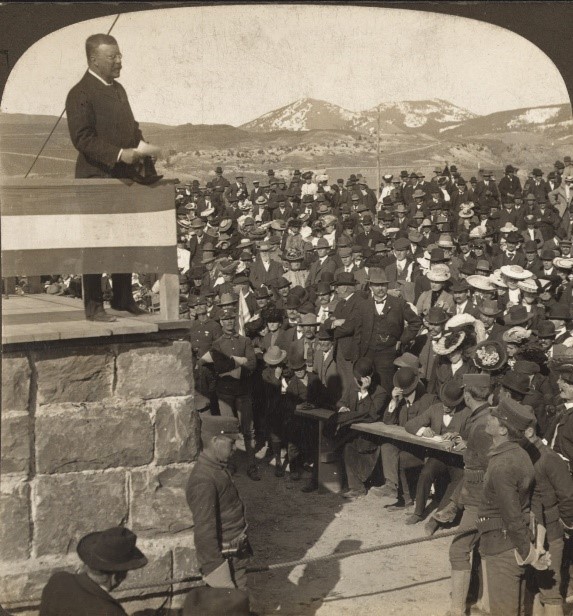 The Roosevelt Arch, built in the park's Army era, is said to have been the idea of Hiram M. Chittenden of the U.S. Army Corps of Engineers. He felt that the approach to the park was barren and lacked suitable grandeur. Park administrators and townspeople agreed, and plans commenced for a grand new entryway to Yellowstone.
In 1903, the partially constructed arch was dedicated by President Theodore Roosevelt, who laid the cornerstone at a ceremony that drew thousands of guests, and much fanfare.
Here are ten fascinating facts about the history of the Roosevelt Arch:
1. The designer of the Roosevelt Arch remains a mystery. Both Robert Reamer—most famous for designing the Old Faithful Inn—and architect Nels J. Ness have been credited, but modern historians say that documentation is inadequate to know for sure.
2. To construct the Arch, hundreds of tons of native columnar basalt were hauled from a quarry in the area. The completed Arch rises 50 feet high and can be seen from miles away.
3. Construction of the Arch took around six months, and cost about $10,000. Today that sum would equal around $340,000.
4. Original plans called for the curved walls on either side of the Arch to surround a landscaped garden, two ponds, and a waterfall. However, this plan proved impossible due to Gardiner's arid climate.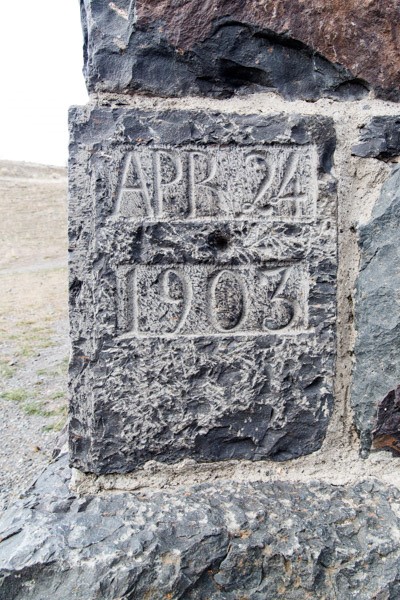 5. The Arch was not originally intended to honor Roosevelt, but was so named because the president happened to be vacationing in the park during the Arch's construction, and was asked to speak at the dedication ceremony.
6. A "canister," which we now call a time capsule, was arranged by local Masons and placed inside the Arch during the dedication ceremony. It reportedly contains a Bible, a picture of Roosevelt, Masonic documents, local newspapers, U.S. coins, and other items.
7. The plaque on the Arch is inscribed with a phrase from the 1872 legislation that established Yellowstone National Park: "For the Benefit and Enjoyment of the People."
8. The North Entrance Road Historic District, which includes the Roosevelt Arch, was listed on the National Register of Historic Places in 2002.
9. If you look closely you can spot the Arch's cornerstone. As you enter the Arch from the Gardiner side, the stone is low on the inside (park side) corner of the right tower. It is more squarely finished than the stones around it, and the surface facing the inside of the Arch is engraved "Apr 24 1903."
10. After the dedication, Theodore Roosevelt never returned to Yellowstone, so he never visited the completed Arch.
Learn More About the Roosevelt Arch:
Photographs: Haynes Postcard of the Roosevelt Arch – NPS; President Roosevelt at the Arch dedication – NPS; Roosevelt Arch cornerstone – Matt Ludin/Yellowstone Forever