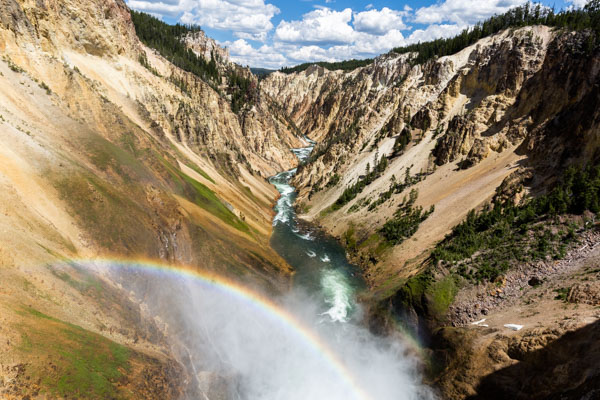 Old Faithful geyser might be Yellowstone National Park's most famous feature, but there's another destination not to be missed. The dramatic, 1,000-foot-deep Grand Canyon of the Yellowstone rewards visitors with dazzling views of multi-hued rock walls and majestic waterfalls. With walking and hiking trails for all abilities, and learning opportunities for the whole family, it's easy to spend an entire day in this unique area of the park.
The Grand Canyon of the Yellowstone is roughly 20 miles long and varies from 1,500 to 4,000 feet wide. Geologists believe it was formed as the Yellowstone River eroded softer, less resistant rock that had been weakened by hydrothermal gases and hot water.
The colorful canyon is a natural work of art: streaks of red, orange, gold, black, and even green decorate the canyon walls. Several miles of trails connect 10 primary overlooks that afford dramatic views from both sides of the canyon.
Whether it's your first visit to Yellowstone, or you visit regularly, everyone loves a summer day in the park. Here's how to get the most out of yours.

Take a Hike

The best way to experience all the different facets of the canyon's charm is to pick a trail and go for a hike. There are many trails along both canyon rims, from short jaunts to all-day treks. Here are a few of our favorites:
Brink of the Lower Falls Trail (moderate):
Descend 600 feet on a steep trail to get an up-close and personal view of the Lower Falls in all its thundering power.
0.7 miles, round-trip
Seven Mile Hole Trail (strenuous):
You'll want to commit a whole day to this trail – the only one that leads to the canyon bottom.
10.2 miles, round-trip
Point Sublime Trail (easy):
After visiting the Artist Point overlook, follow the South Rim Trail beyond Artist Point to this less-traveled path, which meanders along the canyon rim to the aptly named Point Sublime.
1.3 miles from Artist Point to Point Sublime

View the Canyon and Falls
While some views of the canyon and falls are only accessible by trail, you can still get to the following overlooks by car and a short walk from the parking lots on paved, accessible walkways.
From North Rim Drive: View the Lower Falls from Lookout Point, Red Rock Point, Grand View, and Inspiration Point. Both waterfalls are visible from Brink of the Lower Falls.
From South Rim Drive: See the Upper Falls from two viewpoints at Uncle Tom's Point. View the Lower Falls at Artist Point.
Several of the canyon overlooks and trails, which were originally built in the 1930s, are being rehabilitated with support from Yellowstone Forever. Over the years, they have been hammered by unforgiving weather, compromised by soil erosion, and damaged by increased visitation. In recent years, these conditions have prompted some temporary or long-term closures.

Also in the Canyon Area
Learn more about the geology, wildlife, and history of the Grand Canyon of the Yellowstone through one of the excellent opportunities provided by the National Park Service.
Interactive and multimedia exhibits at the Canyon Visitor Education Center, funded by Yellowstone Forever, explore a fascinating park feature: the Yellowstone supervolcano. Check out the 9,000-pound, rotating "kugel ball" that illustrates global volcanic hotspots, and a room-sized relief model of Yellowstone that shows locations of volcanic eruptions, lava flows, and earthquake faults. And don't miss the world's largest lava lamp!
You can also view the 20-minute film, "Land to Life," or browse a variety of educational items in the Yellowstone Forever Park Store.
Several free, ranger-led walks and talks occur throughout the day, as well. For families with children, the self-guided Junior Ranger and Young Scientist programs are offered for a nominal fee at the Canyon Visitor Education Center. Check the park newspaper for schedules and program details.

Canyon Village: Shopping, Dining, and Visitor Services


For dining, information, and other visitor services, head to Canyon Village near the canyon's north rim. At its heart is the sprawling Canyon Lodge and Cabins, which houses a full-service restaurant, cafeteria, deli, and gift store. Nearby, you'll find a general store, outdoor store, gas station, public restrooms, campground, and the Canyon Visitor Education Center.

Be an Early Bird

Because of the Canyon's popularity, plan to arrive as early in the day as possible. You'll not only avoid the peak crowds, but you'll also be rewarded with ideal lighting for photographing the canyon.
Construction
Before heading out, check the park website or any park visitor center for information about trail closures, construction updates, and current road conditions. There are current closures at the Brink of the Upper Falls and sections of the North Rim and South Rim Trails.
Photos, top to bottom: View from Brink of the Lower Falls – Matt Ludin/YF; View of Yellowstone River from Seven Mile Hole Trail – Thomas Cluderay/YF; Overlook at Brink of the Lower Falls – Matt Ludin/YF; Relief model of Yellowstone at the Canyon Visitor Education Center – Matt Ludin/YF; View of the Lower Falls from Artist Point – Matt Ludin/YF.