You could feel the energy as you turned the corner on the Trout Lake Trail, and you could see it too: eleven bright helmets on the trail ahead.
Trout Lake Trail in the Lamar Valley climbs 150 feet from the Northeast Entrance Road to a pristine, high-elevation lake. It's a popular trail for people looking for a short day hike, or those looking to catch a glimpse of the spawning native Yellowstone Cutthroat Trout. But the bright helmets are not a common sight.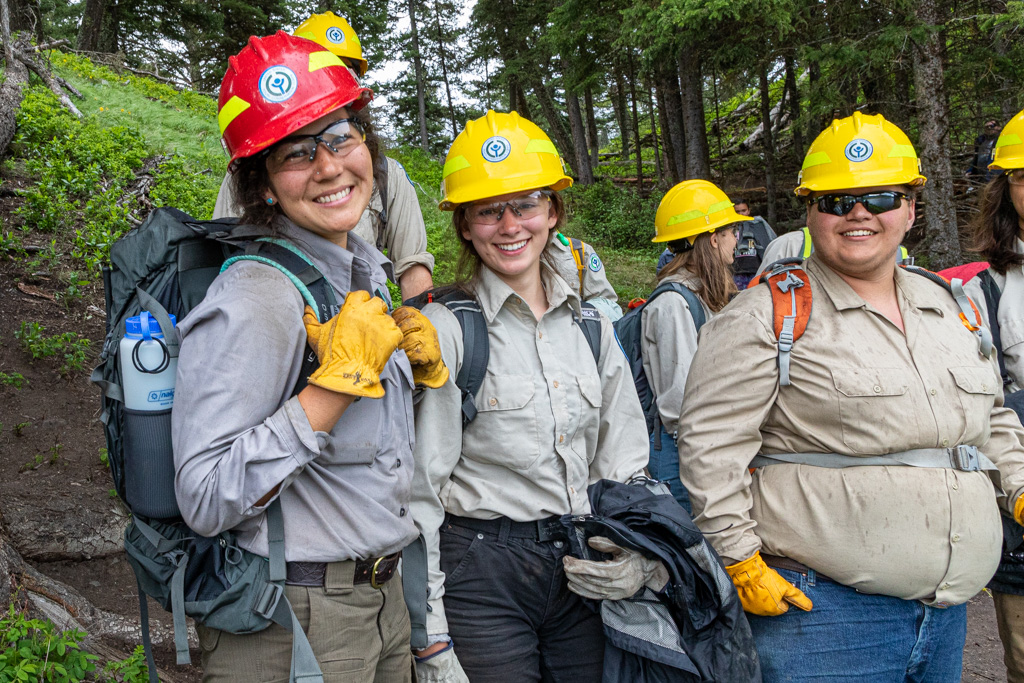 They belonged to seven teenagers, one youth leader and three seasonal rangers — all hard at work with the Yellowstone Youth Conservation Corps (YCC).
YCC is a work-based education program that brings youth from around the country to Yellowstone for one month during the summer. Young people ages 15-18 apply for the program, and 62 are chosen to live, learn and work in the park. The program is in its 30th year.
The program receives funding from Yellowstone Forever through generous corporate and individual donations.
The teens hard at work on the trail hailed from across the U.S., including Iowa, Georgia, Texas, Ohio and Utah. And for many, the opportunity to work in Yellowstone is a dream come true.
Sage from Georgia was chosen to join YCC after applying for three years in a row.
"I was so excited when the email came in. I was yelling and screaming!" said Sage.
For Elena from Ohio, it was a chance to take her family's pastime of camping to the next level.
"My parents are really jealous," Elena said.
Work, Learn, Play, and Grow – the YCC motto
The crew members were completing some much-needed trail maintenance on the path to Trout Lake — installing two water bars and transplanting vegetation to decrease off trail travel.
"Basically, [water bars] redirect water so there's no erosion on the trail," said Bobby, one of the seasonal rangers leading the crew.
The youth were shoveling dirt, digging trenches, and collecting rocks. And doing it all with a smile.
"It's not just work, too. I've learned way more than in the classroom," said Jonah from Iowa.
Alongside the advertised benefits of education and a chance to live in Yellowstone, YCC has an extra perk — or challenge. There's little to no service in many locations in Yellowstone National Park, and the teens must leave their phones behind.
When asked whether they missed their cellphones, they were hesitant.
"It's nice to have a break from the real world and tune into the people around me," said one teen. "If I can keep this busy, I won't even need to check it!"
Allison Newberg, YCC Co-Director with the National Park Service, said that by week two the teens are even more disconnected. Many choose not to look at their phone at all when given the opportunity.
"YCC is an opportunity to inspire the next generation of conservation leaders," said Justin Barth, Senior Manager of Foundation Relations with Yellowstone Forever. "These are young people who may have never had the opportunity to learn and work in Yellowstone if it weren't for the funding provided by Yellowstone Forever's generous donors."
It's not all work for the YCC crew. Their time working on trails, installing bear boxes, and completing other important projects is supplemented by lessons in the classroom and plenty of time to explore the park.
On this day, the teens got to pick a topic for their educational programming later in the afternoon that particularly interested them: career opportunities with the National Park Service.
But before they could return to camp in Lamar Valley for that session, they had some work to finish up.
Ongoing Funding
"You know what time it is? I think it's WAM time!" said Newberg.
The teens laughed, reached into their packs, and pulled out their water.
WAM: Water Appreciation Moment. When you're working as hard as these young people, a reminder is sometimes necessary to take a moment and drink some water.
As they finished up their work for the day, they went over what they'd need to do tomorrow to complete the water bars. Bobby pointed to some of the spots that needed leveling. He showed Isaiah from Texas a trench that still needed some work with the ax.
"With the ax?" said Isaiah, grinning. "I called it!"
——-
The Youth Conservation Corps relies on funding from Yellowstone Forever to continue providing the opportunity for teens across the country to experience and protect Yellowstone.
You can help provide the support to continue this transformative program by donating to Yellowstone Forever today.
Donate Now
Photos: YF/Matt Ludin