Step inside the Lake Yellowstone Hotel and you may get the uncanny and delightful feeling that you just stepped back in time. The oldest hotel in Yellowstone, which celebrated its 125th anniversary in 2016, is a peaceful retreat and the ideal home base for your park explorations. Start planning your trip with our top picks for things to do during your visit!
1. Explore the Hotel on a Walking Tour
Since the completion in 2014 of a $28-million renovation, the Lake Yellowstone Hotel has never looked more grand. On April 15, 2015, it was designated a National Historic Landmark! Take a free, guided walking tour to fully appreciate the hotel's Colonial Revival character, and get a closer look at the rich architectural details, while learning about the hotel's fascinating history. The one-hour tour departs from the hotel lobby each day, either late afternoon or early evening.
2. Plan Your Own Boating or Fishing Adventure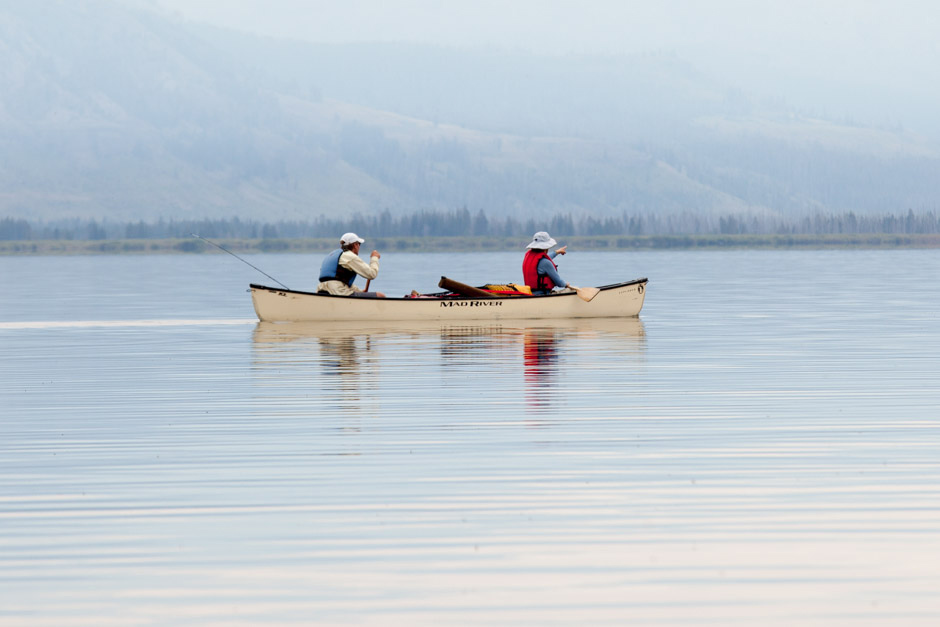 At nearby Bridge Bay Marina, you can rent a motorboat and explore the lake on your own. Bring binoculars in case you spot otters, bald eagles, osprey, loons, trumpeter swans, or white pelicans.  Fishing is allowed with a Yellowstone fishing permit. Native fish, like cutthroat trout, are catch-and-release only, but predatory, non-native lake trout must be killed if caught. Guided charters are also available or, if you are on foot, there are many places to fish along the lake's 110 miles of shoreline.
3. Relax on a Scenic Excursion
If piloting your own boat isn't your thing, reserve your spot on the Yellowstone Lake Scenicruise, an informative one-hour boat tour departing several times daily from Bridge Bay Marina. In addition, every evening, the two-hour Yellowstone Lake Butte Sunset Tour departs the hotel for a ride along the lake's north shore in an historic yellow bus. Your guide will time your arrival at the 8,348-foot summit of Lake Butte just in time to see the sunset.
4. Hike a Trail with Lake Views
There's no shortage of enjoyable hikes in the Park, but several trails in the vicinity of the Lake Yellowstone Hotel will also reward you with stunning water views. Pelican Creek Trail and Storm Point Trail are fairly short, level hikes that culminate in picture-perfect views.  See more Lake-area trails here.  IMPORTANT: This is grizzly country, so bring bear spray and always hike in groups of three or more people.
5. Wine and Dine in Elegant Surroundings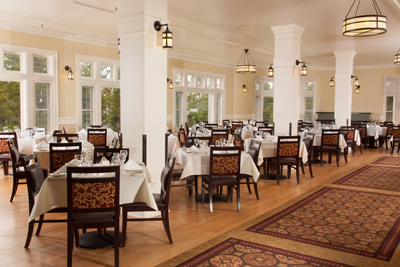 When the day's activities are done, unwind in the hotel's spacious Sunroom, where cocktails and live piano or string quartet music are served up nightly along with expansive views of the lake. When you're ready for dinner, the 250-seat Lake Hotel Dining Room will greet you with an aura of 1920s elegance. The menu features several local and sustainable options, such as Dijon panko-crusted Montana lamb served with garlic mashed potatoes. The restaurant serves three meals a day, and reservations are required for dinner. Be sure to ask for a table by the windows!
One final note: despite its retro vibe, the Lake Hotel earns high honors for being a green operation. Following a rigorous review, it was recently awarded Green Seal Gold certification for environmental sustainability.

The Lake Yellowstone Hotel & Cabins is open from mid-May to early October. Make your lodging reservation online or call 307.344.7311.
By Christine Gianas Weinheimer