With thinning crowds, crisp air, and leaves changing color, fall is a fantastic time to visit Yellowstone. And many of the park's iconic animals tend to be more visible in autumn, when cooler temperatures prompt them to move to lower elevations. With a little planning, you can take advantage of all the season has to offer.
Wildlife Watching in Yellowstone
Dawn and dusk are the best times for spotting wildlife, but since the autumn days are growing shorter you won't need to get up as early, or stay out as late, to take advantage of these prime times. Safety first: maintain a distance of at least 100 yards from bears and wolves and at least 25 yards from all other wildlife. Bears are particularly active this time of year. They are on a constant hunt for food in preparation for hibernation and the long winter ahead. So be sure to carry your bear spray!
The elk mating season, or "rut," is in full swing in the fall, and Mammoth Hot Springs is the best place to hear bull elk bugling and see them competing for female attention. During this time, bull elk are easily agitated and may charge, so never approach on foot and remember to stay at least 25 yards away.
Learn more about the elk rut in Yellowstone
Hiking in Yellowstone
Most of Yellowstone's 1000-plus miles of trails are accessible in the fall. Cool temperatures and fewer mosquitoes make this season a favorite among outdoor enthusiasts. See the park's hiking guide for more information and suggested hikes and check out our own Staff Members' Favorite Hikes. Fall weather is unpredictable and trails can be muddy (or even covered in snow!), so be sure to pack accordingly and don't forget your boots! Remember to remain alert and bear-aware when out on the trail. Carry bear spray, hike in groups, make noise.
Learn more about hiking in Yellowstone
Fall Foliage
While Yellowstone can't claim the fall foliage fame of New England, the park's landscape does dazzle with golden aspens, yellow grasses, and red-leafed shrubs. In a typical year, the peak time for viewing color in the park is from the last week of September through the first week of October. Some of the most colorful spots are Mammoth Hot Springs, the Lamar Valley, Blacktail Plateau Drive, and Lewis River near the falls and in the Lewis River Canyon.
Learn more about seasons in Yellowstone
Lodging in Yellowstone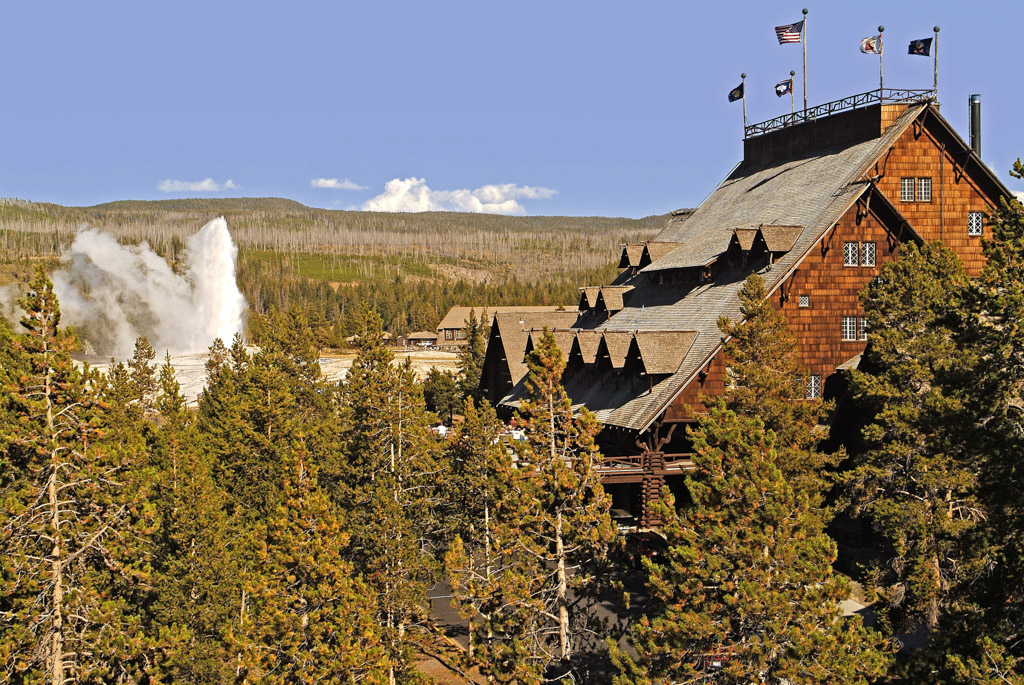 From rustic cabins to the grand Lake Yellowstone Hotel, there are fantastic and historic accommodations of all types in Yellowstone. See our Lodging 101 article for full details. Want a more on-the-ground experience? Give camping a try! As both lodges and campsites do fill fast, we encourage you to make your reservations as early as possible. Photo: Xanterra Parks & Resorts
Learn more about Lodging in Yellowstone
Enroll in a Fall Program
Enrich your fall Yellowstone experience while leaving the planning to a seasoned guide. The Yellowstone Forever Institute offers fall programs ranging from one to five days in length, and highlighting the park's amazing wildlife, geology, history, and wilderness. Program topics and activities include photography, hiking, wildlife-watching, art, and more.
Learn more about the Yellowstone Forever Institute
Fall Raptor Migration
Increasingly colder temperatures and shorter days trigger birds' instinct to migrate from the Yellowstone region in late August or early September and continuing through early October. You'll see both resident birds migrating as well as those passing through on their route between their nesting territories and their winter ranges in the southern US, Central America, or South America. Look for hawks, eagles, and other raptors at Hayden Valley, Dunraven Pass, Mount Washburn, and Swan Lake Flats which are all located along migration routes.
Learn more about Raptors in Yellowstone
Ranger-led Programs
Ranger-led programs help you delve deeper into topics of interest or explore a special area of Yellowstone. Fall programs begin after Labor Day and run through most of the month of September. Examples include guided hikes, star gazing, geyser walks, lake cruises, and much more.
Find out more about National Park Service events