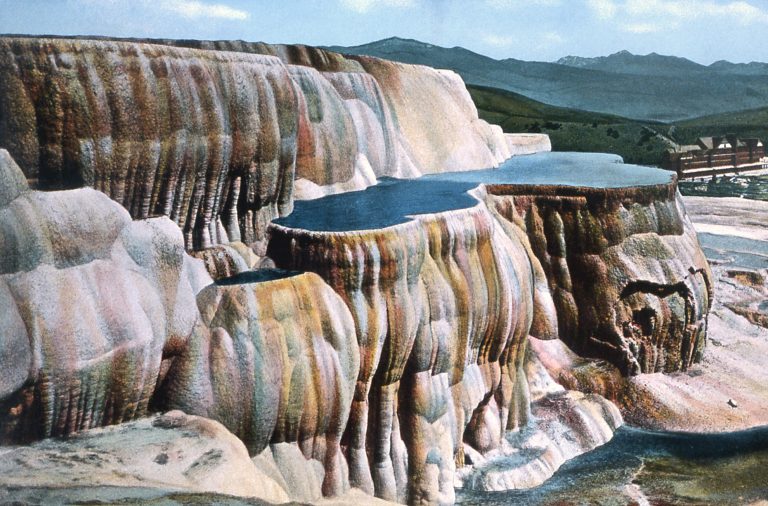 From its earliest days, Yellowstone National Park has been a favorite destination for artists and photographers alike, helping bring to life its natural beauty. Famed artist Thomas Moran and photographer William H. Jackson captured this fabled wonderland on an early expedition in 1871 and brought their images back to Congress in an effort to protect and preserve this special place for all time. Photographer Frank J. Haynes, with artistic vision and an entrepreneurial spirit, carried on the tradition of Moran and Jackson, playing a vital role in documenting Yellowstone National Park and disseminating imagery of its natural wonders to park visitors and to the world.
In 1884, Haynes opened a photography store and studio at Mammoth Hot Springs. This would be the first of numerous such photo shops to be erected throughout the park. Haynes was, for all intents and purposes, the official photographer of Yellowstone National Park for years to come. His dedication to the park and to photography was carried on by his son, Jack Ellis Haynes. Millions of photographs, postcards, guidebooks, and souvenirs later, the Haynes family came to have a great impact in bringing Yellowstone to the world.
History & Online Resources
See below for a number of resources on the history of the Haynes family and to view historic Haynes photographs and postcards.

Yellowstone Forever articles about the Haynes family
Yellowstone's First Winter Photographer:
Story of F. J. Haynes' winter expedition to the park to take the first known photos of the park in winter.

Haynes online photo resources
MSU Photo Archives, Collection 1507, Haynes Family Photographs, 1866-1969
This is a huge collection of photos from the Haynes family, gifted to Montana State University by Isabel Haynes, wife of Jack E. Haynes. Many of these images are personal family photos of the Haynes family and friends.
YNP Photo Archives, Postcards
A collection of dated and undated postcards ranging widely in subject matter.

Other articles and resources on the Haynes family
Wikipedia, Frank Jay Haynes
Article spans the history of F. J. Haynes' life from 1853 to 1921, and also includes photographs.
Haynes Guide, The Complete Handbook, Yellowstone National Park
by Jack Ellis Haynes, 1916
Photos, top to bottom:  F.J. Haynes postcard, Roosevelt Arch and train depot in Gardiner, MT; F.J. Haynes postcard, Mammoth Hot Springs; Haynes Photo Shop, Old Faithful. All images courtesy of Yellowstone National Park photo archives, dates unknown.