Angling has a long tradition in Yellowstone. People come from all over the world to fish the park's varied and famous waters. Nationally recognized fly-fishing guide Craig Mathews recently shared a few tips with us to make the most of angling in Yellowstone.
Yellowstone is a fly-fishing paradise. Nowhere in the world are there so many public rivers, lakes and streams found in such a small area. Seven varieties of game fish live in the park: brook, brown, cutthroat, lake and rainbow trout, along with grayling and whitefish.
Options for all, from beginners to advanced anglers
There is fishing for the whole family in the park. Willing brook trout and grayling can be counted on to come to flies for beginning anglers on rivers like the Gardner, and small streams such as Indian-Panther and Straight Creeks, and Grebe Lake. On the other hand, selective brown-rainbow and cutthroat trout are a challenge for serious veteran anglers on the Madison, Lewis, and Lamar Rivers and Slough Creek.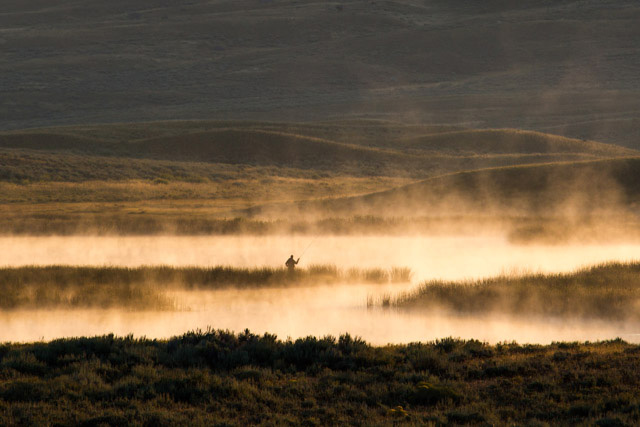 Gateway communities to the park offer guide services and fly shops. Visitors are encouraged to check with these local experts regarding fishing conditions, hatches and stream conditions. First-time visitors to the park might want to spend a day with a knowledgeable guide.
When to fish in Yellowstone
The park's general fishing season begins in late May, though some park waters don't open until June 15 or July 15. Each month of Yellowstone's fly fishing season offers its own style of best fishing.
May-June
Late May is when the season opens, on the Saturday of Memorial Day. The first river to clear from snowmelt is the Firehole River, which is often the only river in fishable condition at the start of the season. The Firehole usually offers great dry-fly fishing during afternoon mayfly and caddis hatches and continues to do so until the end of June.

June offers expanded possibilities, when the best places to fish are the Firehole, Gibbon, and Madison Rivers. Small streams such as Straight, Glen, Indian and others offer fine angling for beginners. The second week of June sees the Gibbon and Madison Rivers clear of snowmelt, and the ice comes off lakes like Yellowstone, Grebe and Trout.
July-August
July is when nearly all rivers run clear of snowmelt, and all park waters become fishable. Insect hatches are then at their peak, and this is a favorite time for dry-fly anglers. July and August are our fair-weather months, with the most consistent hatches and favorable stream conditions.
August is the best time for fishing lakes in Yellowstone—particularly backcountry lakes, as the biting flies have thinned out. All rivers will fish well in August, except the Madison and Firehole Rivers, which may warm up too much due to a combined effect of warm daytime temperatures and thermal activity on the Firehole. As aquatic insect emergences wane, grasshoppers, ants, bees and beetles play an important role in Yellowstone trout diet, so now through the end of the season is the time to fish imitations of grasshoppers, bee, ants and beetles.
September-October
September is the beginning of Yellowstone's late season, when only a few hatches remain to bring trout to the surface. Huge Fall Green Drakes will come off now on the Lamar River and Slough and Soda Butte Creeks, as will tiny mayflies like the Blue-Winged Olives and midges. Once September arrives, water temperatures drop and the Madison and Firehole Rivers begin to fish well again, producing excellent dry fly fishing in the late season during caddis, midge and mayfly emergences.
October is the best month to come if you want to catch the large migrating fish in the Madison and Lewis Rivers. As spawning time approaches in late October, you can count on the weather changing to be more like winter. Then, the big trout in Yellowstone become aggressive and very territorial, and they may be taken on patterns imitating baitfish and other large nymph and streamer type flies. The season ends on the first Sunday of November.
Before You Go
Never fish in Yellowstone without bear spray, rain gear, sun block, sunglasses, insect repellent, and a hat. Know how to use your bear spray, and brush up on bear safety guidelines before you head out.
Review the Yellowstone fishing season dates and regulations.
Yellowstone Fishing permits may be purchased at Visitor Centers, Backcountry Offices, Yellowstone General Stores, and many businesses throughout the region. All fees collected for the fishing permits stay in the fishery program in the park. Read more about fees and permits.
Anyone using a boat or float tube in the park will also need a boating permit.
Learn about the Yellowstone Native Fish Conservation Program.
Craig Mathews has lived in Yellowstone country for nearly 43 years, and has fished its waters for nearly 50 years. In 1980 Craig and his wife Jackie founded Blue Ribbon Flies, the famous fly-fishing shop in West Yellowstone, Montana. They have been tireless advocates for native fish conservation, and have served on many nonprofit boards, including the board of the Yellowstone Park Foundation (which merged with the Yellowstone Association in 2016 to form Yellowstone Forever). In 1997, they received a special Protector of Yellowstone Park award, presented by Yellowstone's Superintendent. In 2002, Craig co-founded 1% for the Planet with Yvon Chouinard. The two men received Trout Unlimited's 2012 Conservation Leadership Award in honor of their worldwide efforts to protect trout and salmon populations. To date, 1% for the Planet has contributed $450 million toward conservation projects, including Yellowstone's Native Fish Conservation Program. Craig and Jackie are also the authors of The Yellowstone Fly-Fishing Guide. 
Photo of Craig and Jackie Mathews courtesy of the Mathews. All other photos courtesy of NPS.