Picture yourself sitting on the porch of your lodge or cabin, enjoying spectacular views of Yellowstone Lake, Old Faithful erupting, or bison grazing. Or imagine stepping back in time at a historic hotel that has been serving guests since they first arrived by stagecoach more than a century ago. Staying at a lodge within Yellowstone National Park not only provides convenience, but also offers an immersive park experience.
Let's take a look at the plethora of Yellowstone lodging options, and some highlights of each one.
Canyon Chic
Canyon Lodge and Cabins feature the most accommodations in Yellowstone, with more than 500 rooms and cabins. The sprawling property located near the Grand Canyon of the Yellowstone River offers dining and shopping, and is connected by walking and biking trails to Canyon Village and the Visitor Education Center. A recently completed redevelopment resulted in five new, sustainably built lodges and a total of 400-plus new guest rooms. The new buildings are both stylish and rustic, with an interior color pallet based on Thomas Moran's iconic paintings of the Canyon.
Lakeside Convenience
Located near the West Thumb of Yellowstone Lake, Grant Village is a short drive to Old Faithful and is the Yellowstone hotel nearest to Grand Teton National Park. It features a full-service restaurant, a lakeside restaurant with a casual menu, and a lounge. Nearby you'll find the visitor center, boating, fishing and hiking.
Modern Comfort
Old Faithful Snow Lodge & Cabins
Completed in 1999, the Snow Lodge is the newest of the park's full-service hotels, featuring a dining room, cozy lounge, and snack bar. It is one of two lodges open in the winter, and can be reached only by oversnow vehicle during this season. In the wintertime, just out the door are cross-country ski trails and a skating rink with free skate rentals. Don't let the name fool you, the Old Faithful Snow Lodge is also open during the summer season!
Iconic Classic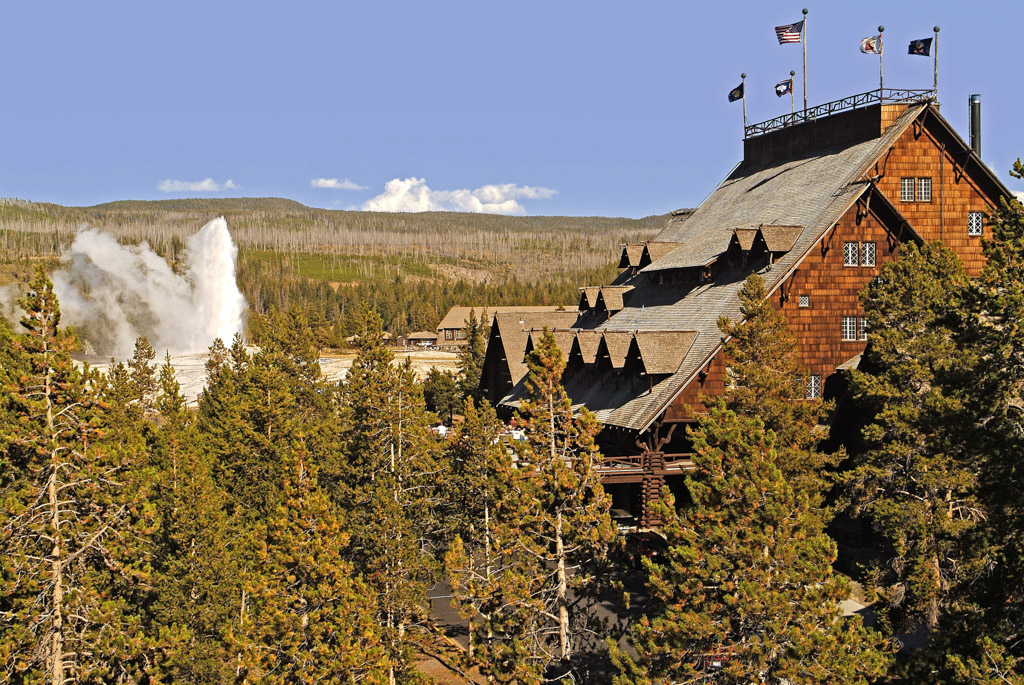 The original building of the Old Faithful Inn, or "Old House," was constructed during the winter of 1903-04. With its soaring lobby ceiling, the Inn is considered a masterpiece of rustic architecture. Today, it is one of the very few remaining log hotels in the United States, and is a National Historic Landmark. Enjoy the slower pace of yesteryear by sitting around the towering stone fireplace in the lobby, or playing a board game on the mezzanine level. Rooms range from very basic with shared bath to larger and newer rooms with private bathrooms, built in the east and west wings.
Learn more about the fascinating history of the Old Faithful Inn.
Rustic Cabins
The often-overlooked sister of the Old Faithful Inn, the Old Faithful Lodge's history predates the Inn. In Yellowstone's early days, it was a tent camp and served visitors at this site from 1898 to 1916, after which it evolved into the Lodge. The Lodge structure you see today, which was completed in 1928, offers cafeteria-style dining and a lounge, and is surrounded by affordable, cabin-style accommodations with and without private baths. Situated very near Old Faithful Geyser, the Lodge's porch offers the perfect view of eruptions.
Old World Charm
Lake Yellowstone Hotel & Cabins
The park's oldest remaining hotel, Lake Yellowstone Hotel, recently celebrated its 125th year and designation as a National Historic Landmark. Visitors are drawn to the hotel's stately architecture and laid-back elegance. Enjoy a live string quartet or grand piano while you sip a beverage in the Sunroom, then savor local, sustainable cuisine in the dining room. Accommodations are available in the main hotel, adjacent Sandpiper Lodge, or in the more rustic cabins.
Lodge with a view
You'll feel far away from the hustle and bustle at the Lake Lodge. The main, log-constructed Lodge features lobby fireplaces and a large porch offering spectacular views of Yellowstone Lake. Behind the Lodge are 186 cabins, some of which are nestled among pine trees, ranging from the simple Pioneer Cabins to the more modern Western Cabins.
Living history

Mammoth Hot Springs Hotel & Cabins
The perfect accommodations for the history-lover, the Mammoth Hot Springs Hotel & Cabins is adjacent to Fort Yellowstone, from which the Army managed the park until 1916. In this walkable area of the park, stroll to the recently renovated Albright Visitor Center, Yellowstone Chapel, and the terraces and boardwalks of Mammoth Hot Springs. This is the only hotel guests can drive to in wheeled vehicles in the winter. It's also a short drive from Roosevelt Arch and the town of Gardiner, Montana.
The iconic hotel is newly remodeled as of fall 2019.
Spirit of the Old West
Roosevelt Lodge Cabins, built in 1920, are located near a campsite once used by President Theodore Roosevelt. The rustic cabins and family-style dining are a favorite among families craving adventure. Complete your Wild West experience with a Stagecoach Adventure, Old-West Dinner Cookout, or 1 or 2-hour Horseback Ride, all of which depart from the adjacent Roosevelt corrals.
Each September, visitors have a one-of-a-kind opportunity to join Roosevelt Rendezvous, one of our most popular Lodging & Learning packages. Visitors stay 3-days and 4-nights in Roosevelt Lodge cabins and explore the area with guided trips and tours for visitors of all ages and abilities.
The great outdoors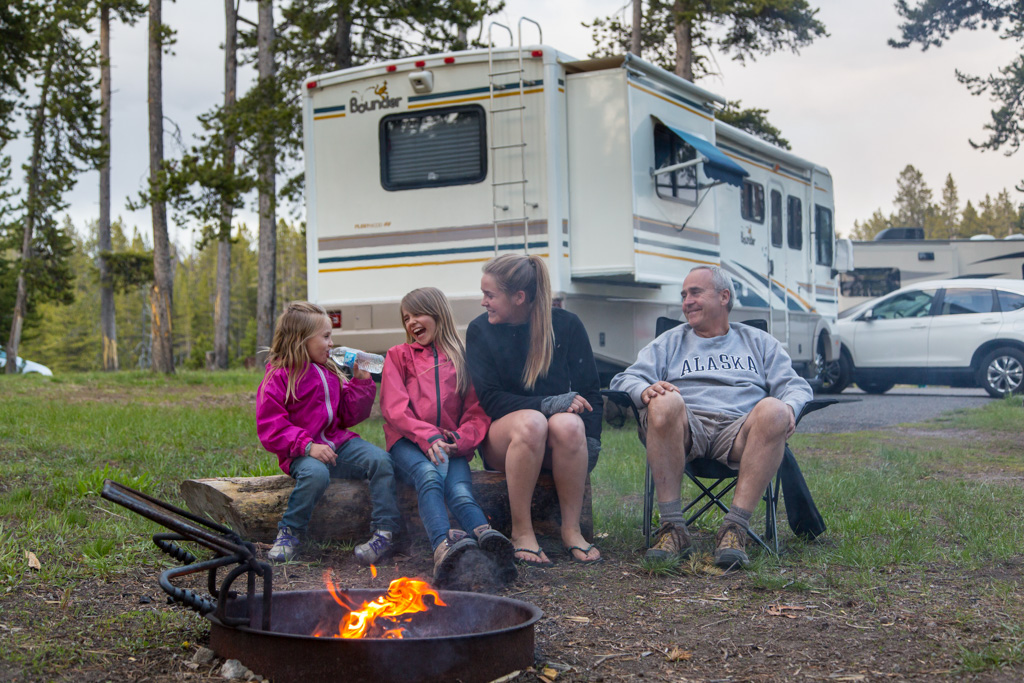 Camping in Yellowstone is a budget-friendly alternative to hotels, and also a whole lot of fun. There are 12 developed, "front country" campgrounds, with a total of more than 2,150 campsites that can be accessed by automobile. Learn everything you need to know about camping in Yellowstone from our Yellowstone Camping FAQ.
NOTE: Norris, Pebble Creek, and Tower Campgrounds are closed for the 2023 season.
Know Before You Go
Before you choose a lodge, remember that there are two distinct lodging seasons in Yellowstone, summer and winter, with staggered opening and closing dates for the various properties. All of the in-park lodges are open in the summer, but only two are open in winter: Mammoth Hot Springs Hotel & Cabins and the Old Faithful Snow Lodge.
How to Reserve
Beginning with April 2023, the process for booking advance reservations for Yellowstone lodging has changed. The reservation booking window now accepts reservations for stays up to 13 months in advance*. Specifically, on the 5th of each month, Xanterra will begin accepting reservations for the same entire month of the following year. For example, on April 5, 2022, guests will be able to make Yellowstone reservations for applicable dates and properties from April 1 through April 30, 2023. On May 5, 2022, guests will be able to make reservations for May 1 through May 31, 2023, and so on. Reserve online or call 307-344-7311.