"If you're in Yellowstone National Park, chances are you are within a historic property," says Zehra Osman. She explains that the majority of the park's roads, hotels, cabins, general stores, quarters, and offices are listed on or eligible for listing on the National Register of Historic Places. Eight of these places are considered so important to the nation they have received an even higher honor: the designation of National Historic Landmark.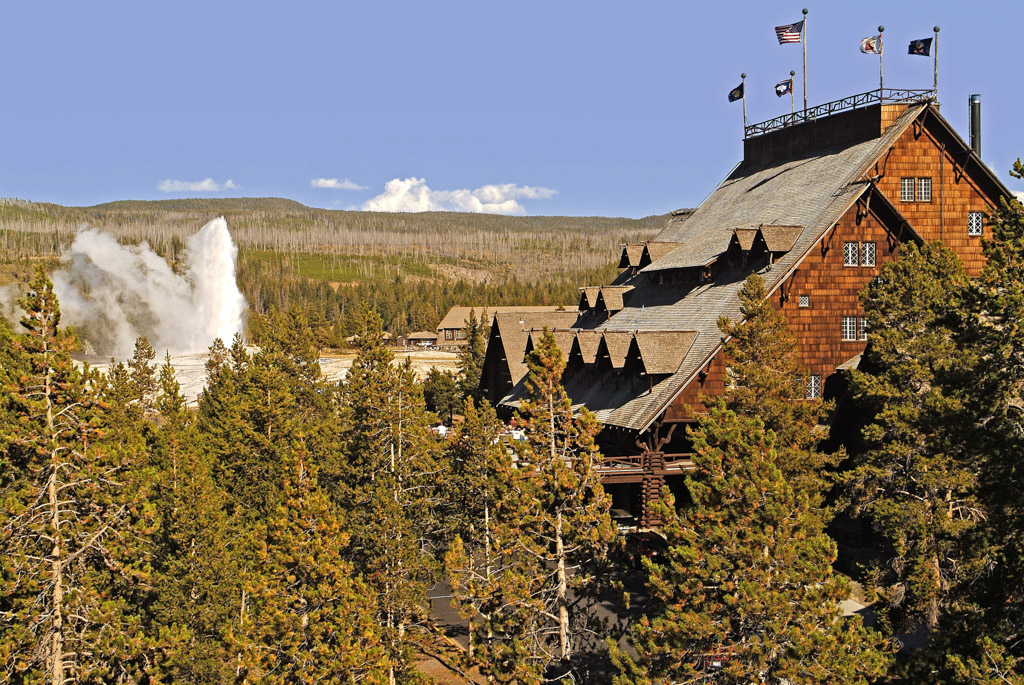 Osman, a cultural resource specialist and landscape architect for Yellowstone, says that nominating these eight historic properties to National Historic Landmark status required a long and painstaking process on the road to achieving the prestigious designation. "Though it can take months, it usually takes years to do the required in-depth research and documentation, and to usher a nomination through the rigorous evaluation process."
Yellowstone National Park's National Historic Landmarks include the Old Faithful Inn, Obsidian Cliff, Fort Yellowstone, Lake Hotel, the Northeast Entrance Station, and the trailside museums at Norris Geyser Basin, Fishing Bridge, and Madison.
National Historic Landmarks are nationally significant historic places that possess exceptional value or quality in illustrating or commemorating US heritage. These properties constitute nearly 2,600 of the more than 90,000 entries in the broader National Register of Historic Places. Examples include Pearl Harbor, the Apollo Mission Control Center, and Martin Luther King Jr.'s Birthplace.
The historic properties that make it through multiple layers of review at the national level have a chance to achieve recommendation to the Secretary of the Interior—the final step before designation. The Yellowstone National Historic Landmarks that eventually earned this honor, says Osman, are considered especially significant in American history and culture.
So what types of characteristics make Yellowstone's eight landmarks stand out? Extraordinary architecture is a common theme among many of the landmarks. Osman says that the trailside museums at Fishing Bridge, Norris Geyser Basin, and Madison, built between 1929 and 1931, are considered the best examples of National Park Service rustic style design in the country.
"Their exaggerated architectural features, large scale timbers and boulders, and organic forms served as models for hundreds of other buildings constructed throughout the nation during the work relief programs of the 1930s," explains Osman. "Architect Herbert Maier designed them in such a way that they appear to be growing out of the ground. The buildings are subordinate to and served as portals to the landscape."
While an entrance station may seem like an unusual choice for a National Historic Landmark, the rustic log Northeast Entrance Station built in 1935 is considered the best of its type remaining in the National Park Service. According to its listing as a National Historic Landmark, it "subconsciously reinforced the visitor's sense of the western frontier and the wilderness he was about to enter."
One of two hotels among the park's National Historic Landmarks, the Lake Yellowstone Hotel opened in 1891 as a modest frame lodge with 51 rooms. In 1903–1904 it was reimagined and redesigned by celebrated architect Robert C. Reamer as an elegant, Colonial Revival-style hotel. "The Lake Hotel brought civilization to the wilderness and is one of few remaining representatives of the style and era," says Osman.
The log-style Old Faithful Inn was completed in 1903 by the same architect. "A masterpiece of rustic architecture, it used natural materials such as gnarled log brackets, allusions to pioneer building techniques, and has a strong connection with its site—Old Faithful Geyser," reads the National Register nomination of the inn. "Its influence on American architecture, particularly park architecture, was immeasurable."
The final two landmarks played important roles in American history separated in time by thousands of years.
Fort Yellowstone, listed as a "district," also includes Norris and Bechler River soldier stations and the Roosevelt Arch at the park's North Entrance. Fort Yellowstone was built by the US Army in Mammoth Hot Springs to serve as their park headquarters when they administered Yellowstone from 1886 to 1918. They erected many structures including a hospital, a chapel, housing, and horse stables; 40 of the original fort buildings remain, with a row of officers' quarters opposite an open parade ground to the west.
"As a special subset of our 895 historic structures, most of our National Historic Landmark buildings, including dozens that are a part of the Fort Yellowstone district, continue to be used as they were historically," says Osman.
In contrast to the buildings comprising the other seven National Historic Landmarks in Yellowstone, Obsidian Cliff is a geologically distinctive, natural feature that also has great significance as a prehistoric quarry and tool workshop. For at least 11,000 years, people obtained obsidian—a shiny, black rock also known as "volcanic glass"—from the area for tool production and for use as trade materials. This site represents the most widely dispersed source of obsidian by hunter-gatherers in North America; artifacts from Obsidian Cliff have been found from western Canada to Ohio.
Osman says that although park staff serve as stewards for all historic properties, the National Historic Landmarks are treated with extra care. "We go to great lengths to make sure these treasured landmarks are protected for future generations."
Yellowstone Forever recently granted funds to the park to replace deteriorating exhibits and make other improvements at the Norris Geyser Basin Museum in 2020. New, colorful exhibits interpreting the geyser basin will be installed, historic windows that were previously covered will be revealed, and a new ADA ramp will be added to enhance accessibility for visitors of all ages.
This article was originally published in the Winter 2019 issue of Yellowstone Quarterly.